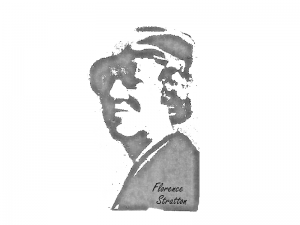 Florence Stratton was born in Brazoria, Texas to Asa Evan Stratton and Louisa Henrietta Waldman on March 21, 1881. Although some references state she was born in 1883, I have confirmed her month, day, and year of birth through the following sources: a 1900 census, at least six mentions in Florence's Sunday Enterprise weekly letters, and a letter from Florence's 10-year-old sister, Emily, in February 1883. Little is known of her childhood, but I hope to keep peeling away the layers and find out more of her early life.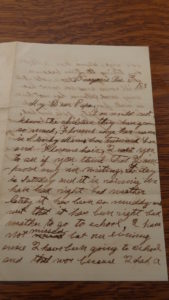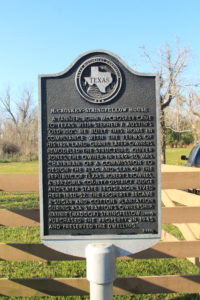 One interesting note I found while researching Florence's early years in Brazoria County is that her grandfather, Major Asa Stratton, owned a sugarcane plantation. On that property sat the second oldest log cabin in Texas, known today as the McCroskey-Stringfellow House. Florence mentioned it several times in her weekly Sunday Enterprise articles, which we will get into next week. Another interesting fact is that Major Stratton's daughter and Florence's aunt, Sarah Emily Stratton married Samuel Bryan, son of W. Joel Bryan and nephew of Stephen F. Austin. Does that make Florence related to Stephen F. Austin?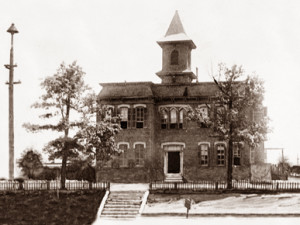 In 1900, Florence graduated as valedictorian from Troy Normal College in Troy, Alabama. She lived there two more years while teaching and then moved to Beaumont in 1903, most likely to live near her sister Emily. Emily and her husband, Walter Stevens, had already been living in Beaumont for at least a year; Walter was working as a clerk in the E. L. Clough Drug Store.
In Beaumont, Florence continued her teaching career by becoming a faculty member at Miss Anne's private school in 1903, then moving on to Beaumont High to teach grammar. Her salary is unknown to me, but when she resigned in 1905, her successor took on the job at $60 a month.
In 1906, Aurelia Peters Norvell formed the Colonel Moffett Chapter of the Daughters of the American Revolution. Many prominent Beaumont women joined this organization, and Florence was no different: She became its charter secretary. Florence's Revolutionary War ancestor was her great-grandfather Peleg Stratton.
In 1907, Florence began her journalism career at the Beaumont Journal as society editor. She also spent much of the following years, 1908-09, in Washington D.C. with her best friend, Willie Cooper. Together, they rubbed elbows with Washington's elite, even attending a White House reception in January 1909.
Florence and Willie had spent many early years together, and when Willie finally married her childhood sweetheart, W.P. Hobby, in 1915, little changed in their friendship. In fact, Florence probably spent more time with her, especially after Hobby became governor in 1917. Evidence in Texas newspaper archives dating from 1917 to 1920 put the three together at many events in this time frame.

Florence started two charity funds: the Milk and Ice Fund, which gave underprivileged people milk and ice during the summer months, and the Empty Stocking Fund, which gave toys to the poor children of Beaumont. Unfortunately, I haven't discovered when the Milk and Ice Fund was founded. Each year, the Beaumont Enterprise rehashes the same article and says it began in 1914. I would agree, but the only proof I have of the fund starting earlier than 1920 is a 1921 article in the Beaumont Journal stating the fund had been running for a few years. The Empty Stocking Fund, which I believe was started in 1920, is run by the Beaumont Enterprise today.
A November 1980 article by Laura Young of the Beaumont Enterprise stated that Florence had written speeches for Governor Hobby. Though not farfetched, I haven't found proof of it. In fairness, the article was an interview with Eunice Stephens, Florence's niece. Unfortunately, Eunice is partially to blame for some of the incorrect information out there. Her recollections do not seem to fit the facts. In defense of Eunice, however, all information gathering on Florence using Eunice seemed to happen during the final years of Eunice's life (1979-1980; she died in January 1982). I do not and will not speculate on Eunice's ability to remember her aunt's ventures, but publications that have used her as a source, such as the November 1979 issue of The Texas Gulf Historical & Biographical Record, have contained completely inaccurate information on Florence's life.
To be continued…