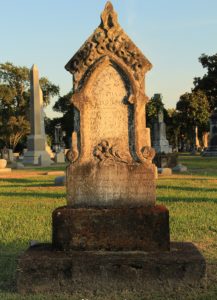 In my time involved with the Jefferson County Historical Commission, along with my own personal adventures, I have spent a considerable amount of time in cemeteries tracing the history of our area through the lives of those who have passed. I have found many things that are not widely known or that have been obscured by time. It would seem that every time I enter a cemetery, I come across either a memorial, an interesting headstone that catches my eye, or both. And just as certainly, a mystery will follow.
In, 2014, while planning the first of our annual October cemetery tours, I noticed a unique headstone placed behind the Firefighters plot, located near the flagpole. At first glance, it was difficult to make out the wording, simply because the stone, once ivory white, had been weathered for over a hundred years on this bluff. I asked Judy Linsley, local historian and co-founder of the tour, about it. She did have some recollection of its origin, but didn't know the specifics. The story was of a woman who lost her life, as did many, in the Great Hurricane of 1886 in Sabine Pass. Her body was never recovered, and this stone was a memorial to her, erected by her brother.
During the first two cemetery tours, we acknowledged the memorial, but we never went into the story in full detail as it wasn't really a part of the main tour. It wouldn't be until 2016 that I tried to document what I could of this tale, but, as usual, I ended up with more questions than answers. So, as of early 2017, I still haven't found all of what I am searching for, but it is becoming more clear that this isn't just a memorial to Miss McDonough; to me, this a springboard to find out more about this family's alluring history.
My search began, of course, with the question, who was Miss Jack McDonough? There are a few sources out there, but little was known to me until I ran across her memorial page on Find a Grave. For those who don't know, findagrave.com is a free website in which you can make a memorial to your departed family members, friends, or anyone you would like remembered. I've used this website for research a few times, and I've had mixed reviews with regard to the historical accuracy of some of its members, but it can be a good starting point all the same. In this case, the source behind the memorial page was family, and they did seem to have knowledge of, or at least family lore, pertaining to Miss McDonough.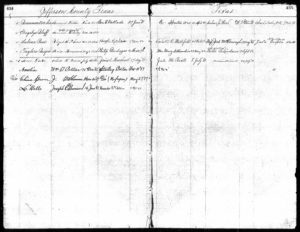 Miss Jack McDonough was born in Henderson, Texas (Rusk County), in 1855 to Benjamin Franklin McDonough and Adalissa Williams McDonough, but there is no information regarding her childhood or her adulthood until 1885, when she was appointed Postmistress of Sabine Pass on August 17. I did find documentation of this on both the memorial page and in a scanned document on Ancestry.com. The next documented evidence of her unfortunately, is of her demise. I found countless articles of the aftermath of the hurricane, but mostly mentioning Miss Jack McDonough in the list of the dead and/or missing. Miss McDonough's memorial page tells the story of what happened on that dark day. Note: The story is from research and genealogy done by Martin McDonough (1915–1987), who was the son of Andrew T. McDonough (Miss Jack's brother).
On October 12, 1886, a tremendous hurricane hurled high waters and fierce winds through Sabine Pass, and more than 50 residents were drowned. Benjamin and Adalissa, Benjamin Jr., and the small grandchild, (son of the deceased Jesse) went to the post office to rescue Jack; she would not leave until she had counted up the postal funds and put them in a bag to take with her. By then the two Benjamins were pushing a boat with the two women and the child in it. The boat overturned, and in the darkness, wind, and the confusion the three occupants were lost. The bodies of Adalissa, and Benjamin Foley, were recovered by rescue workers two days later, but that of Jack was never found.
Some of the citizens of Beaumont and Sabine Pass erected a monument to Jack in Magnolia Cemetery, in Beaumont, where it still stands in a prominent place.
https://www.findagrave.com/cgi-bin/fg.cgi?page=gr&GRid=38196304
Another mystery in this story was Miss Jack's father, Ben Franklin McDonough. While I believe he lived in Sabine Pass in the 1860s, 1870s, and 1880s, with a few minor stints in Austin County, Texas, I found no evidence of his existence here locally. I contacted a few local historians on Sabine Pass, sifted through another historian's papers, at the Sam Houston Center in Liberty, and even contacted the local chapter of the Sons of Confederate Veterans. I figured if anyone would have information on him, it would be the SCV, since he was a Confederate veteran. Unfortunately, nothing was found.
At first I believed that the family might have been mistaken, but last week, instead of typing Benjamin Franklin McDonough's full name into a Google search, I typed in his initials B.F., which opened a wealth of information on him through Google books. Not only did I find records of his life in Sabine Pass, I found documents concerning his life in Henderson as well. But best of all, I found a letter he had written to the then-sitting President of the United States Andrew Johnson, dated May 27th, 1865.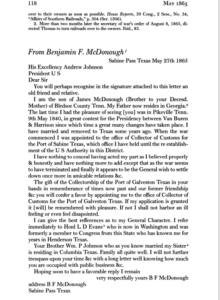 He writes:
From Benjamin F. McDonough
                                             Sabine Pass Texas May 27th 1865
His Excellency Andrew Johnson
President US
Dear Sir
     You will perhaps recognize in the signature attached to this letter an old friend and relative.
    I am the son of James McDonough (Brother to your Decesd. Mother) of Bledsoe County Tenn. My Father now resides in Georgia. The last time I had the pleasure of seeing [you] was in Pikeville Tenn. 9th May 1840, in great contest for the presidency between Van Buren & Harrison since which time a great many changes have taken place. I have married and removed to Texas some years ago. When the war commenced I was appointed to the office of Collector of Customs for the Port of Sabine Texas, which office I have held until the re establishment of the U S Authority in this District.
   I have nothing to conceal having acted my part as I believed properly & honestly and have nothing more to add except that as the war seems to have terminated and finally it appears to be the General wish to settle down once more in amicable relations &c.
   The gift of the Collectorship of the Port of Galveston Texas in your hands in remembrance of times now past and our former friendship &c you will confer a favor by appointing me to the office of Collector of Customs for the Port of Galveston Texas. If my application is granted it [will] be remembered with pleasure. If not I shall not harbor an ill feeling or even feel disappointed.
   I can give the best references as to my General Character. I refer immediately to Honl L D Evans who is now in Washington and was formerly a member of Congress from this State who has known me for years in Henderson Texas.
  Your Brother Wm. P Johnson who as you know married my Sister is residing in Columbia Texas. Family all quite well. I will not further trespass on your time &c with a long letter well knowing how much you are occupied with public business &c.
  Hoping soon to have a favorable reply I remain
                                      very respectfully your B F McDonough
address B F McDonough
Sabine Pass Texas
I guess being first cousin to the President of the United States could be a plus when asking for a pardon, and a new job!. Don't you think?
In the end, my continuing pursuit of collecting research on the McDonough family for future reference will go on. Their mark on Southeast Texas history, however minor, should be remembered and told. It is good, though, to see their descendants keeping their history visible. For whether prince or pauper, no one should be forgotten