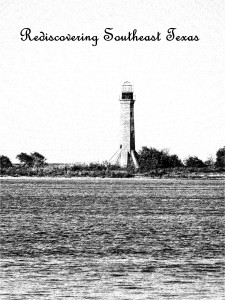 When I started this blog/website, my intention was to promote our local SETX (Southeast Texas) history, and by local, I mean all of SETX. You can also add a little bit of SWLA (Southwest Louisiana) as well, since we share most of the same history. I will also add that the caretakers of my favorite lighthouse are there.
I hope we've done our part in the last four-and-a-half years to shed light on our rich history, and to promote a positive image of this area. In the beginning, I wanted to devote time to promoting our museums, places of interest, and other historic sites so that visitors could have an educational experience. Here in SETX we have a plethora of great places and unique histories that I think should be known to everyone (especially to our own Southeast Texans). In our first few years, we visited many hidden gems that do a wonderful job of bringing SETX's history to life (links to the stories of our jaunts are located at the end of this article), and I want to expand this scope in 2017.
So, as of now, I am requesting suggestions from you for places of interest, museums, etc., for us to visit in 2017. I am particularly interested in branching out into the northern counties this year, because in the past, I wasn't able to explore most of these counties since I could not take time off from my other job.
Another project that I have been wanting to do is add a "Places to Visit" page to the website. I would like to provide a list all our museums, with working links and completely up-to-date information, such as what days and times they are open to the public. I can only accomplish this if those of you in the know send me the information. I hope this page will be yet another tool for promoting our history.
Finally, if you have anything that you think should be of interest to Southeast Texans please don't hesitate to email me at rediscoveringsetx@gmail.com, or if you prefer, send letters and/or other info to:
Rediscoveringsetx Press
P.O. Box 2078
Nederland, Texas  77627
Museum of Hardin County (Kountze)
Bertha Terry Cornwell Museum (Sour Lake)
Beaumont Police Department Museum
Chambers House Museum (Beaumont)
La Maison Beausoleil Museum (Port Neches)
T.J. Chambers House & Chambers County Historical Commission Museum (Anahuac)