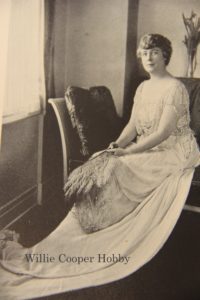 Throughout my research of Florence Stratton, I have been down many rabbit holes, so to speak. She certainly led an interesting life, which involved many people. And yes, I have files on just about all of them. One person who I can say influenced Florence's life more than the rest was Willie Cooper Hobby. Their friendship lasted many years, and I'm sure they had many tales that were never told nor graced the pages of any periodicals, but in Willie's life of fifty-three years, she definitely had a social advantage over most.
Willie Chapman Cooper was born in Woodville, Texas, on June 19, 1876, to Sam Bronson Cooper and Phebe Young. There is little information about her life as a youth, other than that she grew up in Woodville. I do know she attended Kidd-Key College in Sherman, Texas; yet I don't know the year nor if it was, at the time, a women's high school or a genuine college. And looking into her father's endeavors, with the few available records that I have, I can see little information about her until she resided in Washington D.C. in March of 1893, when her father was a congressman. So, let's delve into his history a bit.
Sam B. Cooper served as the prosecuting attorney of Tyler County for four years (1876–1880), then as a Texas state senator for the next four years (1880–1884). I assume that this is where the friendship of the Stratton and Cooper families began. Florence's father, Asa Evan Stratton Jr., was a Texas senator from January 1883 to May 1884. In 1885, he was named collector of internal revenue at Galveston. Sam would hold this position until 1888. After an unsuccessful run for district judge in 1889, his next stint in politics came in 1892 as a congressman in the United States House of Representatives. He would serve six consecutive terms for the Second Texas District, before losing to Moses Broocks in 1904. Sam served for one more term, from 1906 to 1908, after defeating Broocks in the next election. So, knowing the political path her father took, it seems obvious to me that Willie would take on the role of a socialite, especially living in Washington and later New York, where her father was appointed to the Board of General Appraisers of New York by President William Howard Taft in 1910.
Throughout her years in Washington, Willie was indeed popular around the social circles and was even invited to the White House a time or two. I know this from a few newspaper clippings and her invitation, which, as I stated in the last article, are in her scrapbook at the Briscoe Center for American History in Austin. As friends do, Florence also tagged along and got to mingle with the elite, or should I say, the world's hubs, which capitals can be, especially in a thriving country.
On May 15, 1915, Willie married her childhood sweetheart and, at the time, the lieutenant governor of Texas, William Pettus Hobby. Her early years in Washington would play an important part in her life due to her social duties as the lieutenant governor's wife.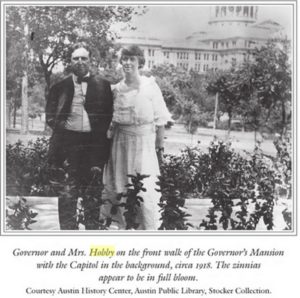 In August of 1917, W. P. Hobby became governor of Texas after the sitting governor, James E. Ferguson, was impeached. Hobby held the Democratic ticket and eventually won the governorship in 1918 after Ferguson ran against him in the primary. Willie shone as first lady of Texas and won the praises of many in her years in Austin. She was highly popular and entertained much, except during World War I, because she felt it inappropriate, according to Dining at the Governor's Mansion by Carl McQueary. She also wanted to follow government guidelines for food conservation during wartime. In addition, Willie was responsible for making needed repairs and additions to the 60-year-old mansion, such as installing steam heating and adding a bath to one of the bedrooms.
While living in New York, Willie became interested in the women's suffrage movement, which was a cause most dear to her. I found much evidence of this in my Briscoe Center research and in newspapers from her days as first lady of Texas. In fact, much of her scrapbook dwells on this topic. I also found an ample number of newspaper clippings from this era that show that both Florence and Willie did their part to promote women's right to vote.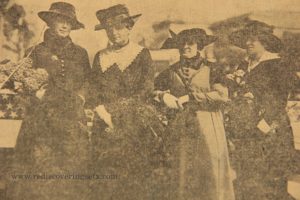 Throughout her life, Willie was always gracious and charming and treated everyone the same, whether servant or dignitary. In her memorial book, there are many references to how she was loved by those who knew and conversed with her. As I wrote at the beginning of this article, Willie was Florence's best friend, and many years were spent together enjoying social events. From a visit to the White House 1909 to attending the inauguration of Mexican president Álvaro Obregón in 1920, both always seemed to be in good company. In fact, one of Florence's books, Favorite Recipes of Famous Women (1925), is a compilation of Willie's recipes when she was first lady from such visiting dignitaries as authors, actresses, and wives of past presidents or foreign leaders.
Willie died in her sleep at her Houston residence on the morning of January 14, 1929, to the shock of most. During the following days, there were many heartfelt condolences sent to her husband, W. P. Hobby, from all across the world. Many of these condolences can be found in a memorial book entitled Tributes in Memory of Willie Cooper Hobby, which was privately published by (I would assume) her husband. Here are a few excerpts:
I cannot longer wait to tell you how distressed and grieved I am over Willie's death. Words fail to express the love and sympathy which has gone out from my heart to you all. I just cannot reconcile myself to the fact so grand and useful a woman should be taken.
As I write my thoughts run over the twenty-five or thirty years. Dear Mrs. Cooper and her family are vividly before me. So well do I remember the party I had and Willie, a beautiful young girl there and received the prize. In the years which followed the Cooper family figured in my life. You know how I loved Mrs. Cooper and Willie. Although of late years I saw so little of her I knew she was nearby. She it was who suggested to me to change the name of the Woman's Reading Club to the Woman's Club. Some hesitate to mention it to me thinking I would feel hurt but soon as I heard of it I made a motion to make the change.
Beaumont                                                                                                                    Sally Greer
*                               *                               *
To me Willie was the embodiment of all the word, "friend," implies; her charity of thought… the kindliness of her heart and the deep solicitude for her friends… qualities the make one so worthy of admiration and love and for which I feel my life has been enriched for having known her.
Houston                                                                                                                       Edwina Wiess
*                               *                               *
We the members of the Woman's Club of Beaumont, wish to extend to you our deepest sympathy. Mrs. Hobby has been loyal and faithful to our club and our hearts too are full of sorrow. We shall miss Mrs. Hobby but we shall ever hold her in memory and we shall strive to reach the goal of high ideals which she held before us.
Beaumont                                                                                                                     Woman's Club