Estate sales can be a treasure trove for resellers, but for me, they are places where I can sometimes find something of historical value. And by historical value, I do not mean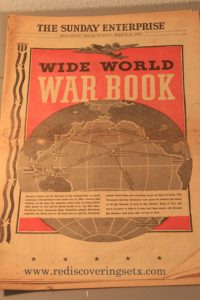 monetary. It is very rare that I show up on the first weekend of the estate sale, much less on the first day. So you can rest assured that I won't be the guy knocking on the front door 15 minutes early, dressed in shorts and flip flops with a latte in hand, griping on about how you haven't opened the doors yet. (Sigh. I've actually seen someone do this at my one and only first-day estate sale visit.) At estate sales, I look for items such as old scrapbooks, regional books, and newspapers. These items don't just have historical significance; they also have a human element that people like me find valuable. I find it sad that these items are most often passed up and discarded at the end of the sale because of disinterest.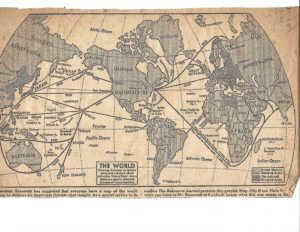 In the past few years, I have acquired a few treasures to add to my library, along with some great photographs and postcards. I have also purchased a few items that, in all honesty, likely would have been trashed: newspapers printed around the time of the Kennedy assassination, and a few others detailing the events of some of our local hurricanes. I think my biggest purchase (from a historical perspective) was a scrapbook that I bought in 2015. At first glance, it seemed to be mostly newspaper clippings from World War II, which I could not pass up. With my new acquisition, I returned to my office to do a quick look through, but I didn't really start going through it until later in the year.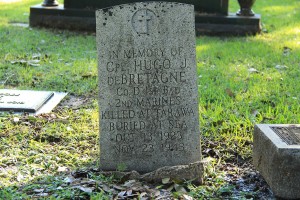 In November 2015, on the day I toured Greenlawn Cemetery, I began revisiting an old interest I have in World War II. At the cemetery, I discovered a memorial for Cpl. Hugo J. DeBretagne, who was killed and buried at sea at Tarawa. During the next few months, I searched through a few newspaper archives for information on the DeBretagne family. I found bits and pieces of information about their lives but little on the sacrifice Hugo made. I also began listening to several audiobooks though Audible about the Pacific Theatre: Utmost Savagery by J. H. Alexander, Helmet for My Pillow by Robert Leckie, Code Talker by Chester Nez and Judith Schiess Avila, The Conquering Tide by Ian Toll, and With the Old Breed: At Peleliu and Okinawa by E.B. Sledge. All of these I highly recommend.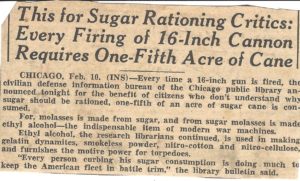 It wasn't until June 2016 that I really began to look through the scrapbook I purchased. In it, I found an amazing assortment of newspaper clippings from before and during America's engagement in the war. Of course, there were full-page headlines of the attack on Pearl Harbor, as well as the attacks that followed. Even the full text of Roosevelt's address from December 8, 1941, was nestled in the stack of 74-year-old periodicals. The content seemed endless, especially when I made the decision to scan and copy most of the clippings for preservation, but the labor was well worth it.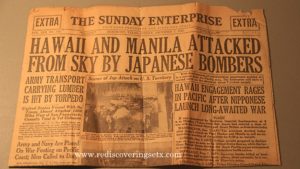 I know little about the person who affectionately collected these bits of history from 1941 to 1944. I have found out the name of the collector, but out of respect for the family, I will refrain from divulging any personal information. I will say that the collector was female and definitely had a knack for historical preservation. In fact, she kept the multi-page clippings together by sewing them to one another so they wouldn't become mixed up with the others.
The collection took about four months for me to scan and copy into three full binders. The content is a wide range of who, what, when, and where the world was during the early 1940s. One insight I found particularly intriguing was how the articles exemplified the American mindset at the time. Many people were trying to grasp the reality of what to expect in 1942. The fear and anger in the early days gave way into a unified machine that scrapped, saved, and manufactured its way to victory on the home front in the following years. This was a feat that could only have been pulled off by the "Greatest Generation."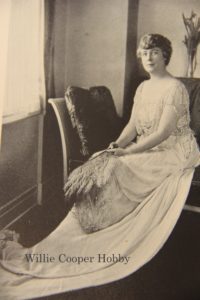 Although my scrapbook purchase was a major highlight of 2016, it wasn't my first endeavor into in-depth research. Earlier this year, I went on two excursions as part of my ongoing research on Florence Stratton. In January I visited the Briscoe Center for American History in Austin to look through a couple of boxes pertaining to W. P. Hobby. Hobby was the governor of Texas from 1917 to 1921, and he owned both the Beaumont Enterprise and the Beaumont Journal for a time. My subject, however, wasn't the former governor but rather his first wife, Willie Cooper, and her scrapbook that's located at the Briscoe Center. I will be touching on this more in next week's article, but for today, I will say that to hold in my hands an invitation for a party at the White House from 1908 is an incredible feeling that I can't put into words.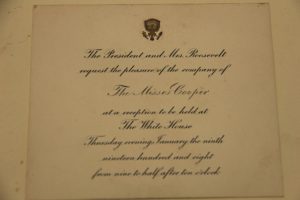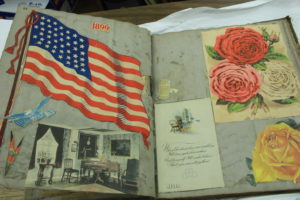 My next excursion was in February. I contacted the Brazoria County Historical Museum to inquire about the Stratton plantation. The Stratton plantation was a sugarcane plantation owned by Florence's grandfather in the 1800s. My original phone call was to ask about the location of the old plantation, but things took an interesting turn. Since I hadn't contacted the museum in the previous two years, my research wasn't really known to them, other than the fact that they hand found a few documents pertaining to Florence's father for me in 2013. As I explained who I was and what I was researching, a funny thing happened. The conversation went a little like this:
"You said the last name is Stratton?"
"Yes."
"Well, that's interesting because I have a scrapbook that someone just donated to the museum from a Stratton that's sitting on my desk."
"Oh really?" I paused. "What's the name?"
"Emily."
Emily was Florence's older sister, and sure enough, the scrapbook was Emily's. She'd made it somewhere between 1880 and 1900. I learned that someone found the scrapbook at an estate sale in North Houston (possibly Conroe, if I remember correctly). Since much of the scrapbook pertained to Brazoria County, the person who bought it thought it would be best suited in the hands of the Brazoria County Historical Museum. And I agree!
Not much in the scrapbook has to do with Florence herself, but the fact that it was there and had the potential to give me a few crumbs to savor made me end my hesitation and actually visit her birthplace. Truth be told, I did find a decent number of interesting nuggets within the pages of the scrapbook; I'll share these sometime in the next few months.
In closing, I'll just say that 2016 was a good year on the research front and a good year for a few collective finds. Hopefully, 2017's journey will be the same, and if you frequent estate sales, I may just see you there. Just remember that I won't be roaming the house with a latte in hand, checking eBay on my phone to see what I can get for that Beanie Baby. Instead, I'll be the guy who's interested in that Time Life 28-book collection on World War II!