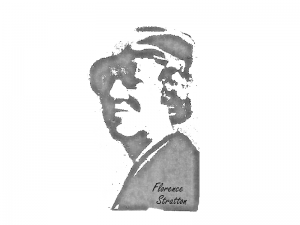 My research on the life of Florence Stratton is now in its fourth year. It's true that I've made multiple discoveries in what would seem, at times, a hopeless endeavor, but there always seems to be an open door at the end of the hallway, so to speak. And I have definitely ventured into many of those long corridors.
In late December 2015, after a visit to the Sam Houston Regional Library and Research Center to research historian Bill Quick's papers, I "quickly" (pun intended) became inspired by how organized he was in his research and how he maintained his notes. Although I never had the pleasure of meeting Mr. Quick when he was alive, I am ever so grateful for his years of documentation of SETX history, especially regarding the Sabine Lighthouse—it appears we shared a mutual love for this structure.

So as many do, in January I decided to make a New Year's resolution. I spent countless hours filing, scanning, and digitizing all my files for future use by persons unknown should the need arise. I believe I am nearly through with this growing inventory of information, except for the Florence Stratton Project as I call it. I have scanned and digitized many related files and documents, but three-plus years of research are not always readily available to scan, such as my small two-page file on the city of Ronald, Texas. Nevertheless, most of the files about Florence and her family are stored as PDFs, along with countless newspaper clippings in JPEG (photo) format. Then there are the "Susie Spindletop's Weekly Letter" articles written using Florence's nom de plume, which span February 28, 1926 to January 23, 1938. This collection will be a whole new digitizing endeavor, which will mean many weekly trips to the Sam Houston Region Library and Research Center to obtain clearer images. The initial scans from many of the microfilm collections for the Beaumont Enterprise are quite blurry.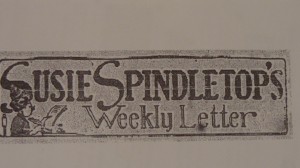 I have also realized that field trips are a necessity. Given the timetable, genealogy, and friendships in Florence's history, I found it important to proactively explore these sites, cities, and research hubs. And it was in Austin that I began my journey over the road. On Monday January 25, I stepped into the Dolph Briscoe Center for American History. The center holds many historic treasures—so much so that I could spend months, or even years, sifting through them. Since I only had a day, I decided to focus on W.P. Hobby Sr.'s papers. W.P. Hobby was the Governor of Texas from 1917 to 1921. At the time, he was the youngest governor ever to hold the office in the state. Hobby also had many local ties to Beaumont. He became the manager and part owner of the Beaumont Enterprise in 1907 and married Willie Cooper, the daughter of the U.S. representative Sam Branson Cooper, on May 15, 1915. At various points in Florence's timeline, I noticed she spent time with Willie Cooper in Washington D.C. (1907–1908) or in the Governor's Mansion in Austin (1917–1921). Other newspaper articles described her attendance at many functions with the Governor and First Lady, from a Turkey trot in Cuero to the inauguration of the Mexican president Álvaro Obregón.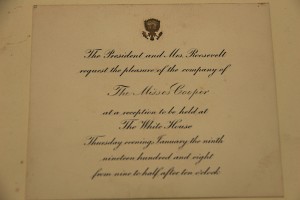 In one of the two boxes I requested, I found a scrapbook that once belonged to Willie. After looking at all the newspaper clippings and other memorabilia, it certainly put what I'd been studying into perspective. Between the clippings and other historical artifacts, I located an invitation addressed to "The Misses Cooper" dated January 9, 1908. It reads as follows:
The President and Mrs. Roosevelt request the pleasure of the company of
The Misses Cooper
At a reception to be held at
The White House
Thursday evening January the ninth
Nineteen hundred and eight
From nine to half after ten o'clock
Holding something like that in your hand can be inspiring to say the least. Both Willie and Florence attended the White House reception in January the following year as well. I know this thanks to an article in the Washington Post dated January 8, 1909.
I made many discoveries that day. Most of the scrapbook concentrated on W.P. Hobby becoming lieutenant governor and eventually governor when James E. Ferguson was removed from office. I also noticed a lot of content on women's suffrage (women's right to vote). Unlike others, Hobby saw the benefits of this early. There is one letter to the editor of the Beaumont Enterprise in Willie's scrapbook. We'll call him Pete (because that is how he signed his name in the letter). Pete was hell-bent on not giving women the right to vote. He talked of the curse of Jehovah God "by harkening to the voice of women, and giving to the ballot." He also quoted the Apostle Paul and the like, but it would have been pointless to spend one more iota of time on this jackleg. It is interesting to ponder just what Mr. Pete would have thought when a woman, Miriam Amanda "Ma" Ferguson, was elected Governor of Texas in 1925. A possible coronary, I would imagine.
I assume Willie saved this letter as a reminder of how important this era was for women, and through the newspaper articles, I was also able to get a small glimpse of Florence's journey. In September 1918, she was listed as one of 31 vice chairpersons for the senatorial districts for the Democratic Party.
My next field trip will be to the place Florence treasured most, her place of birth, Brazoria County. Florence was born on March 21, 1881 at her childhood home in Brazoria, Texas, which in later years she revisited regularly in "Susie Spindletop's Weekly Letter." Her popular column was published each Sunday, and in this, she also spoke highly of her grandfather, Major Asa Evan Stratton, who owned a sugarcane plantation.
My other ventures into her past will this month include a visit to Woodville to find any more sources relating to Willie Cooper that may be traceable to Florence, a revisit to Austin to peruse more of W.P. Hobby's papers, and then the inevitable journey to Troy, Pike County, Alabama.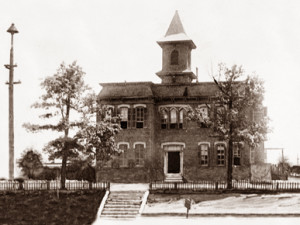 Contrary to most articles about Florence, she graduated from Troy Normal College and not Gray Normal College as W.T. Block noted in his earlier writings. In fact much of Florence's lore is inaccurate, and I'm still sorting through the mess. This is not to discredit Mr. Block on this subject; he was blissfully unaware that the recollections of his primary source, Florence's niece, were wholly inaccurate. I personally have no knowledge of the atmosphere or Eunice's mindset when she was interviewed for the articles published in the Texas Gulf Historical and Biographical Record, but most of the "facts" were just plain wrong.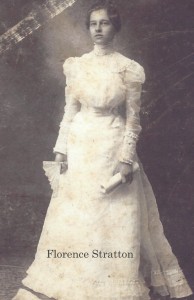 Luckily, with time, Florence's past is emerging in the form of documented proof on how she spent her life, and how she was a positive resident who was loved by all. Many of my early questions have been answered, but there is still a mountain of research to climb. Some readers have asked what I plan to do with all this research. Well, it is no secret that I intend to submit a marker application to the Texas Historical Commission (THC) in 2017 to celebrate a life that deserves recognition in SETX history. Indeed, Florence's contributions to Beaumont history, society, and charity cannot be matched.