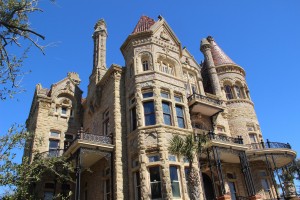 One tour that has eluded me for a few years now is the Bishop's Palace in Galveston.  I have religiously taken the Galveston Tour of Homes for the past three years, and I will continue to do so, but this "castle" has been unavailable for my scheduling. This is why I was so elated for the Galveston Historical Foundation to have its "Basement to Attic Tour" of their treasure in February.
First, let me say that the $30 charge for the tour was well worth it. All funds go to the restoration of this fine structure, and I for one want to help when I can. Second, the docent was a wealth of knowledge, and entertaining as well.
The main highlight of the tour includes, of course, the architecture.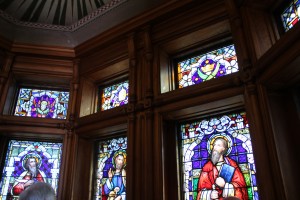 The Bishop's Palace, built circa 1892 and originally called the Gresham House, or Gresham Mansion, was built by Nicholas Clayton for railroad magnate and politician Walter Gresham.  The stone and woodwork is simply unmatched to most in SETX. I will say the George Sealy Mansion, circa 1889 and designed by Stanford White, is on the same level, but it is privately owned by UTMB and unavailable for tours. I was fortunate to visit it during the Galveston Historical Foundation's 39th annual Tour of Homes in 2013.  Those of us who live in the Sabine-Neches River part of SETX might be reminded of the woodwork found in the Stark and McFaddin-Ward Houses.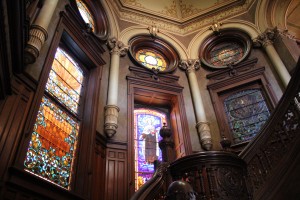 During the tour, you will see a few painted prints, ceilings, cups, etc. painted by Josephine Gresham, wife of Walter. The artwork, especially on the ceiling of the dining room, is a must see.
The Catholic Diocese of Galveston purchased the mansion in 1923 to serve as the residence for Bishop C. E. Byrne. After the Diocese moved their offices to Houston, it was turned into a museum in the early 1960s and remained under their control until it was sold in 2013 to the Galveston Historical Foundation.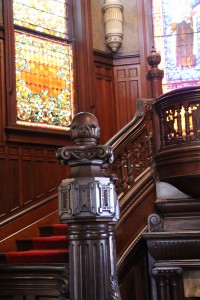 Again, I stress that this is a treasure that needs to be enjoyed in person. My preference is the Basement to Attic Tour. Enjoy!
Guided tours are available seven days a week, from 12:30 – 3:30 pm.
Audio tours are also available seven days a week, from 11 am – 5 pm.
The Galveston Historical Foundation's "Basement to Attic Tour" dates are as follows:
March 15; April 19; May 17; June 7, 21; July 5, 19; and August 2, 16
The tour starts at 11 am sharp!
For more photos click here: http://flic.kr/s/aHsjTvq7EV