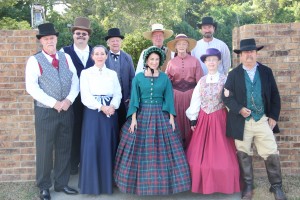 It seems I've been spending a lot of time in cemeteries lately. Of course, with Halloween just past, it is the time of year to remember our ancestors, friends, and those whose memories we cherish and who have passed on to lay the groundwork for when we join them. It also helps to pique one's interest in their lives when the living honor them by holding a tribute of sorts. This is what the Liberty County Historical Commission did last weekend, and boy, was it a special!
Whispers from the Past… Tales and Tours from the Liberty City Cemetery was an event that I found intriguing and enjoyed wholeheartedly. It also got me thinking that each county—or city—could do the same as these fine folks and bring their history alive for all to see. But as always it will come down to volunteers, volunteers, and more volunteers.
I was very impressed with the actors. Not only did they do an impressive job of taking us back in time, but they revealed their passion for their characters by providing us with insights into these people's lives. It's hard to choose the best story to share. In all honesty, all the stories were fantastic when told in this way. Here are a few examples:
Ephraim Jesse Crain, portrayed by Cody Abshire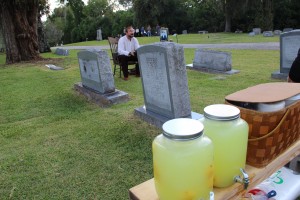 This individual endured a hard life, but when he was handed lemons, Ephraim made lemonade.
Born on a plantation in Louisiana in 1836 (or 1837), Ephraim lost his father at the age of eight but was lucky to have a caring stepfather who made sure he received an education. Ephraim got married at age 22 although his wife sadly passed on three years later.
During the War Between the States, Ephraim fought for the Confederates, even participating in the Battle of Gettysburg, where he saw much death and destruction. Afterwards, he walked back to Louisiana from Virginia, seeing firsthand how the war had ravaged the land and the toll it had taken on its people.
After returning to the plantation, Ephraim tried to get it running again but went bankrupt. Later he travelled to Natchitoches where he met his second wife, Corinne. They set out together for greener pastures in Houston but ended up settling in Liberty after hearing about Houston's yellow fever epidemic. They are buried side by side in the Liberty City Cemetery.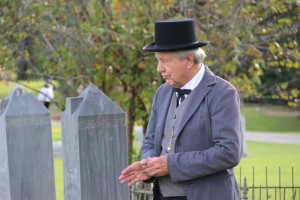 Col. E. B. Pickett, portrayed by Bob Sherer
Colonel Pickett was born in Wilson County, Tennessee, in 1826. In 1848 he served in the U.S. Army during the Mexican–American War. After the War he married Virginia Bell and immediately relocated to Liberty County, Texas, where he started practicing law.
During the War Between the States, he joined the Confederate Army, but he and his regiment were captured in Arkansas. He spent one-and-a-half to two years in a prisoner-of-war camp but was released during a prisoner exchange. With the death of his wife in 1864, Col. Pickett immersed himself in his work. He became a familiar figure in the political world and served in the Texas Senate from 1870 to 1874.
Colonel E. B. Pickett died in 1882, but his descendants continue to live in Liberty County.
Katherine Nolan, portrayed by Deborah Pickett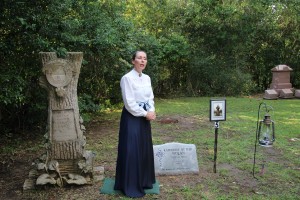 Katherine Butler, who was known as Kate, was born in Dublin, Ireland, in 1827. When she was nine, a wealthy cousin took an interest in her and saw to it that she received an education. She studied many languages, including French, Italian, and German.
Kate met an Irish widower from Texas named William Nolan, and after a six-week courtship, they were married. They sailed to Galveston in 1850 and then moved to Richmond, Texas. Between the harshness of the land, the Indians, and the mosquitoes, her new surroundings didn't sit well with Kate. But William, his library, and musical instruments helped her persevere.
Despite many hard times, the couple both survived, finally ending up in Liberty, thanks to the Catholic Bishop who offered them an opportunity to open a school there. Kate and William taught at the school for about eight years before moving back to Richmond in 1875. Sadly William died two years later, so Kate went to live with her daughter in Liberty where she taught music and lived out the remainder of her life. Kate died in 1904.
Other stories from the Whispers from the Past event that I want to delve into at a later date are: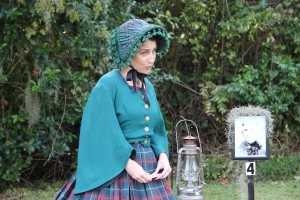 "Little Miss Rose," the Runaway Scrape child, portrayed by Alana Inman
Capt. William Duncan and Celima DeBlanc Duncan, portrayed by Don Smart and Darlene Mott
James Madison Hall, portrayed by Kevin Ladd
Thomas Blake Smith, portrayed by Neal Thorton
Col. Franklin Hardin and Cynthia O'Brien Hardin, portrayed by Eric and Glenda Sandifer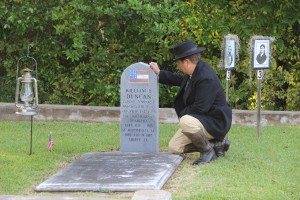 All proceeds from Whispers from the Past… Tales and Tours from the Liberty City Cemetery go to the Liberty County Historical Commission.
This was indeed an event that I will attend again next year. Once more, I commend all who participated… You did a magnificent job!
More photos :
http://www.flickr.com/photos/25032584@N05/sets/72157637031488165/