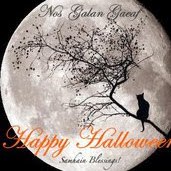 When I was growing up, October was special to me. Not only is it my birth month, but it was also a time of great joy. CavOILcade was still something to look forward to, and toward the end of the month we would always anticipate trick-or-treating down 19th Street with keen enthusiasm.
I vaguely remember my sisters telling ghost stories in the living room. (Does anyone remember the man with the golden arm?) Just when the spooky part would happen, Tiger, our cat, would jump up onto the air-conditioning window unit outside and scare the hell out of us. I loved that cat!
Trick-or-treating was special. We would walk down 19th Street to the train bridge, knocking on doors and waiting excitedly for our treats. Of course, not everyone enjoyed this time. There was that fly-by-night church (if I recall correctly, it was called the Church of Port Arthur) where some kid who looked to be 10 years old yelled at us that we were all going to hell. I promptly responded, "And a fun time we will have!" He didn't respond. I guess that was the only thing he had been taught to say.
For the most part I did have a good time haunting 19th Street in my cheap Casper costume. I will say though that that damned rubber band on the bargain-basement mask never lasted the whole night, but it made it as far as the house where candy was consumed with great relish. I guess in all honesty I wasn't a friendly ghost. Just ask the 10 year old at the Church of Port Arthur.
I also remember this was the time when there were stories of some candy being tainted with horrible things, such as razor blades. My father was first to make sure that the candy was safe and edible. Of course he took it upon himself to eat each candy where the wrapper had been slightly disturbed. Even at a young age I could figure this ploy out.
Halloween was special while I was growing up. We had fun in somewhat dark times, but all in all, it was a joyful time in my life, and now I would like to commemorate those who made this time a hoot! Even that poor 10 year old. I hope that in his later years he found greater happiness than that derived from yelling at children who were looking for candy.