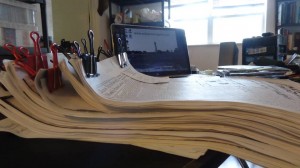 For the past year or so, I have spent countless hours browsing through the microfilms of the Sunday editions of the Beaumont Enterprise. My main reason for spending so much time doing this has been to research the life and times of Florence Stratton, and I have determined that most of the "historically accurate" information about her is wrong. I found this out by going through census records, city directories, and yes, her weekly letter, which was published from February 1926 to January 1938. It is interesting to note how much you can learn a lot about the culture and happenings of a society through its gossip column.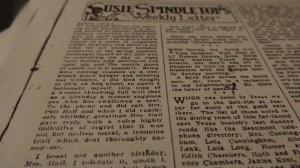 I figured that if I wanted to learn more about someone then I would have to go to the source, and "Susie Spindletop's Weekly Letter" was where Florence revealed a few tidbits of information about her private life. So off I went to the Tyrrell Historical Library to copy each issue of those Sunday articles. Currently, I have all the copies from 1926 to 1931. I still need those from 1932 to 1937, which will probably take approximately six months to collect and assimilate.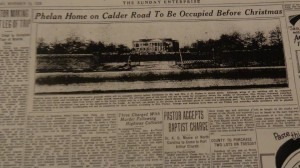 While spending these countless hours reading through the Sunday Enterprise, I found out about other aspects of our history that are equally entertaining. In the late 1920s and early 1930s, after the second Spindletop oil boom, there was an enormous amount of construction taking place in the area. Indeed, most of the buildings standing today are from this time as evidenced when you drive the streets in the neighborhood near the courthouse: you will see many of Beaumont's old buildings with a date from this era stamped on the upper frontage. (Note: There are many buildings in Port Arthur dated the same way.)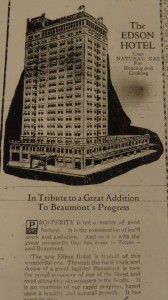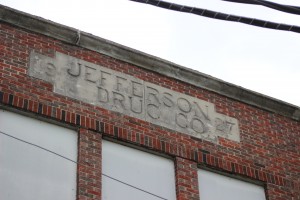 It was interesting to come across articles about the construction of the then-new Edson Hotel circa 1929 and to read that the Phelan Mansion was to be ready by Christmas 1928. The Enterprise is full of Sunday articles highlighting the growth and expansion of Beaumont's adolescent years.
I have also come to enjoy Dean Tevis' articles on the SETX farmers of that time. I found mention of one farmer in particular, Martin Block (the great uncle of historian W. T. Block), particularly insightful since I live next door to where his house once stood here in Port Neches.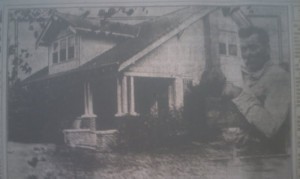 Each week brings a new beginning and a time stamp in our history. For instance, do you know that the McFaddin's land is to be cut in two by a little waterway, to be built in 1928, called the Intercoastal?  How about the new County courthouse's five-floor jailhouse (1931)? The more you delve into these papers, the more you lose track of time.
During these years, Beaumont was definitely a happening place. And thanks to Spindletop's second boom, this area would not feel the full brunt of the Great Depression like so many other parts of the United States. SETX was growing and working, even into the mid to late 1930s.
So as you drive around Beaumont, especially near the river, take time to appreciate some of the restored 80-plus-year-old landmarks. They are truly treasures that are worthy of investigation.
 http://www.flickr.com/photos/25032584@N05/sets/72157635822955784/
https://www.facebook.com/media/set/?set=a.384310745014401.1073741841.291139714331505&type=1&l=500b9a3ec0