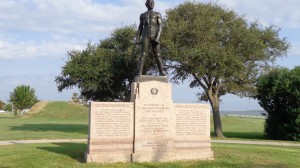 With the sesquicentennial of the battle of Sabine Pass only a day away, it is interesting to note that Dick Dowling Days turns 50 this year. And boy, what an action-packed series of events are lined up! Dick Dowling Days began as a tribute to honor Lt. Richard W. Dowling and his band of 40-plus Irishmen who, incredibly, repelled an invasion of 5,000 Federals on September 8th, 1863. It also memorializes the fallen Union marines and sailors who perished in the battle.
September 7 and 8 will be the biggest in Dick Dowling Days history with over 350 reenactors, both military and civilian. Numerous cannons and cavalry will be on guard for the planned scenarios. It will also be a great time to maneuver through the camps and get a taste of how life was in the 1860s. Dick Dowling Days is a family affair so kids of all ages are welcome.
Some of the highlights that I'm looking forward to, which are also the usual crowd favorites, are the scenarios:
–       The court martial and execution of Lt. Elijah Allen was a real event, which I only learned about at last year's Dick Dowling Days. Lt. Allen was tried and convicted in 1864 for deserting his post in High Island and inciting his command to do the same.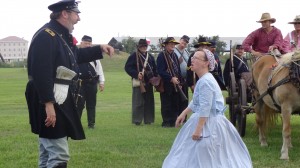 –       Kate Dorman is one lady whom I have come to admire since I first encountered her in April 2012. The feisty Catfish Hotel owner will be well represented at Dick Dowling Days 2013. Her scenario, confronting a Union officer while he tries to confiscate her horse and cart is a must-see.
The main highlight however is the memorial service. Representative James White and author and historian Edward Cotham will speak to honor those who perished in the battle. The Lone Star Pipe band will be on hand, as will the Order of the Confederate Rose, to give the floral tribute. A rifle and artillery salute will follow.
Another highlight of Dick Dowling Days 2013 is Jed Marum. He will be performing on both Saturday and Sunday. Jed is a talented Celtic/folk/Bluegrass musician whose music I believe everyone will enjoy. You can see more of his work at http://www.youtube.com/user/jedmarum .
Admission and parking is free. Parking will be at the Sabine Pass High School with a free bus service to and from the battleground. The gates will open to the public at 9 a.m. on both Saturday and Sunday.
A brief history of the battle: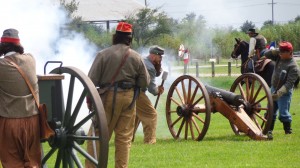 One sultry September day in 1863, a decisive victory was had by a small but well-drilled band of Irish volunteers commanded by Lt. Richard William Dowling. Union forces had planned a surprise attack by using their four gunboats as an advance party to take Fort Griffin and secure a landing site for their 18 transport ships, which carried an invading force of 5,000 men. But the Union's secret plan quickly unraveled, and Dowling's men were well aware of the Federal threat before it materialized.
On the afternoon of September 8, 1863, Union forces began their attack with a barrage of artillery fire on the fort. Later, it was intended that the Union gunboat Sachem would make its way up the Louisiana side of the channel in the hope of drawing fire from all of Fort Griffin's guns while the Clifton, one of the Union's main ships, would sneak up through the Texas side of the channel in an attempt to take out the fort's artillery. But Dowling's gunners immediately disabled the Sachem by sending a shot into her boiler. With the Sachem's threat dealt with, Dowling turned the guns toward the oncoming Clifton. A shot through the wheelhouse disabled the steering of the Clifton and sent her aground. After a brief onslaught of canon fire, the Clifton surrendered. Seeing the two gunboats taken out so quickly, the invading force opted to retreat rather than to lose more men and guns. In the end Dowling's men took 350 prisoners and had no casualties. The Union forces lost 50 men, with scores wounded.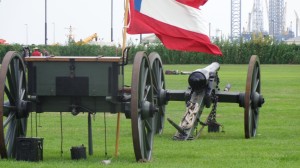 SCHEDULE of EVENTS
Saturday 9-7-13
9:00 Gates open to the public
10:00 Court Martial & Execution
11:00 150th Anniversary Memorial Ceremony
2:00 Battle: Union Attack & Occupation of Sabine City
3:00 Jed Marum in Concert
Sunday 9-8-13
9:00 Gates open to the public
9:00 Church Service
10:00 Court Martial & Execution
11:00 Jed Marum in Concert
2:00 Battle: Union attack on the Garrison at Sabine City