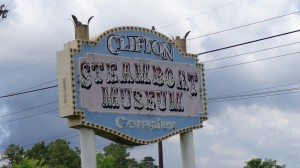 This post will certainly have to be divided into two parts because that's just how much the Clifton Museum has to offer: from fine art, sculptures, authentic models of sailing ships and steamboats, to an eye-catching full-fledged tugboat sitting majestically on the property for all to see. I truly spent hours enjoying all the old photographs, artifacts, and memorabilia from our past; not to mention the amazing statues that line the grounds.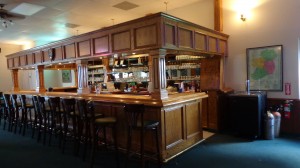 I had passed this museum a few times previously but this was the first time I actually embarked on an exploration of its many treasures. Beginning with the steamboat smokestacks at the entrance to the parking near O'Hearn's Pub, I felt that this place was very different from the norm. By the way, yes, O'Hearn's is a full service pub that would make Richard William Dowling proud. Unfortunately it's not open for business but it can be rented, along with Moresi's Foundry, which is an excellent place to hold meetings, parties, reunions, etc.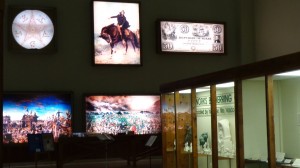 The first thing that caught my eye as I entered the museum was a tall wooden structure. Yes, the models of early ships were in view along with the last engine of the tug Hercules, but this structure was both massive and intriguing. I was told it was part of the grain elevator at the port of Port Arthur. It was built between 1895 and 1898 and constructed almost entirely of Longleaf Yellow Pine, which is now extinct.
As you walk through the museum, you will find an abundance of collections and exhibits. The first two "eye-catchers" are the many ship models, including the City of Beaumont replica for which a plank from the original ship was used to make the railings and decking. These models were created by Robert V. Haas. I must say that the fine detail that went into these treasures is amazing. The second is a collection by sculptor Matchett Herring Coe. There are many pieces of his work on display.
There are many other exhibits lining the rest of the first floor, most of which are tributes to those who fought for this land. Whether you're interested in the Native American "Freedom Warrior" display or the Texas Revolution, the Civil War, WW1, WW2, Korean Conflict, or Vietnam War exhibits, they are all here. And truth be told, I have yet to explore the second floor.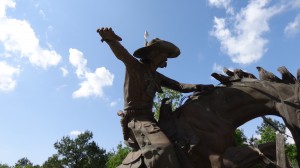 Like most of my jaunts, my first visit was full of pleasurable historical discovery. The Clifton Museum will not disappoint; it has a tremendous amount of history from all realms on offer, and I hear there are many other opportunities in the works as well. So stay tuned!
For those who are members of the Beaumont Heritage Society, the annual meeting will be held at O'Hearn's Pub on May 21st at 5:30 pm. The museum will be open to the public at 4 pm so everyone can have a look around. I will certainly be there!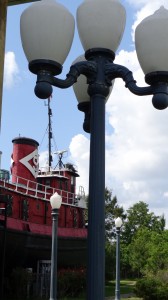 http://www.cliftonsteamboatmuseum.com/
Tours are available by appointment only. Please call (409)842-3162 for more information regarding the Clifton Steamboat Museum.
​
The Clifton Steamboat Museum Complex is a beautiful meeting place and entertainment facility for groups up to 300. Banquet facilities are available to accommodate any type of party, seminar, meeting or reunion. For more information please click here or call (409)842-3162.
​