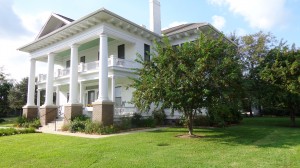 It was a festive mood at the Chambers House last Friday evening. In celebration of what would have been Florence Chambers' 100th birthday, we partied like it was 1929! And what fun we had going back in time.
As the guests made their way up the porch toward the front door, one could not help but notice the black, orange, and gold streamers hanging from the porch lights, along with an array of flowers in planter boxes.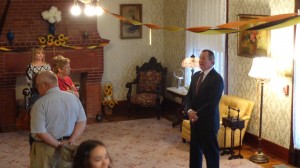 Upon entering, we were immediately greeted by the delightful Homer Chambers who welcomed us to his daughter's 17th birthday celebration. In the background, the Charleston could be heard along with the numerous dancing partygoers who were already in full swing.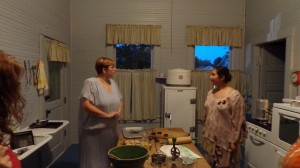 This re-enactment of Florence's 1929 birthday party could not have been better. Not only were the guests given a tour by the docents, but a live peek at history as well. All the actors portraying the Chambers family did a wonderful job! Most of the cast were from the Beaumont Community Players, with the exception of two who were the Beaumont Heritage Society's own.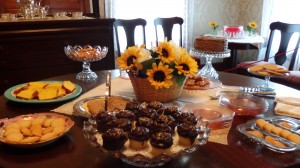 After the tour, guests were treated to refreshments of cake and punch. (Note: I still dream of that cake.)
The Chambers House, built in 1906, provides my favorite tour in Southeast Texas. There is a story here worth telling, and I would urge all to take the tour of this fantastic house and its even more fascinating occupants.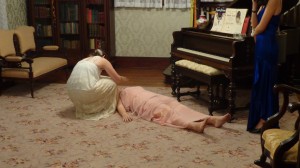 I had a great night and hope that Ruth, Papa, Mama, and Florence looked on with the same vigor. I believe their spirits were present at this celebration. Life was good in 1929.
The House is open for tours Tuesday through Friday from 10:00 a.m. until 3:00 p.m. Saturday tour hours are from 10:00 a.m. until 2:00 p.m.
The admission fee is $3.00 for adults, $2.00 for senior citizens, and $1.00 for students. For groups of 10 or more, please call (409) 832-4010 to make a reservation.