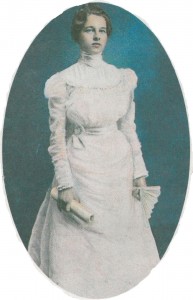 Dear Della:
I know it's been ages since your friend Susie has written to you, and I know she is deeply missed. I never met Susie personally, but I do know of her fondness for you and her knack for always knowing what you and your neighbors were up to. She shared many things with you each Sunday morning, something which I have only recently come to learn.
Della, I have read some of the open letters that Susie wrote to you over a period of 11 years on the pages of the Beaumont Enterprise. It's obvious that Susie cared for everyone. But of course she did. You know she created "The Journal Empty Stocking Fund" to help poor people around the time of Christmas each year and "The Journal Milk and Ice Fund" because, as she put it, "even in the summer poor people are still poor."
Thinking back, I can only imagine how hard it was for people during that time. Poverty was certainly color blind, and "Great" was a word used in sorrow. But you survived. You always will.
Yes I know that the Beaumont Journal is long gone, but the Beaumont Enterprise is still hanging on and its Empty Stocking Fund is still helping out citizens of this fine town, even today. It's thanks to Susie that the poor are still being helped.
————–
Della, I did find out something about Susie. Did you know she wrote books? Susie published them under the name Florence Stratton. One of her books, The Story of Beaumont, published in 1925, has found a home in my office.
————–
After reading her column and books, I can see why you and your neighbors liked her so. Susie was one of a kind. My only regret in this scenario is that I wasn't around in 1920s and 1930s Beaumont to talk with her. But I get that way when thinking about all my favorite people of Southeast Texas history. Although I must confess Susie is at the top of my list.
————-
Guess what Della, I passed by Susie's beloved house today. I couldn't help but think that ol' Susie is still watching out for her little house. And you know what, it's still secluded behind those tall hedges. Just the way she wanted it.
Paul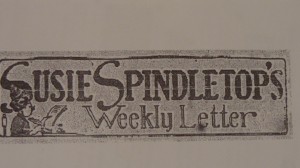 Note: This article has been edited with updated information as of 08/10/2013
Florence Stratton was born in Brazoria, Texas, in 1881. Her parents moved to Montgomery, Alabama, when she was a child. She attended Troy Formal College in Troy, Alabama, and even became valedictorian. (Note: In W. T. Block's article about Florence, he wrote that she had graduated from Gray Normal College. I found out that Troy Formal College is now Troy University. I did not find any mention of Gray Normal College.)
In 1903, Florence moved to Beaumont, where she lived with her sister, and subsequently became a member of the faculty at Miss Austin's private school.
In 1907 Florence had begun her journalism career at the Beaumont Journal as society editor. Thirteen years later, she would join the Beaumont Enterprise in the same capacity.
Earlier I mentioned that Florence had published a few books. There were five to be exact. The first was a compilation of O. Henry's writings when he worked as a news scribe in Houston. She compiled them and wrote the foreword. It was called O. Henry's Postscripts and was published in 1923.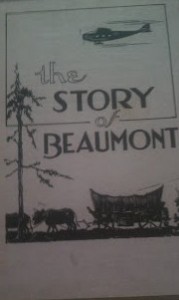 In 1925, she would publish another compilation book entitled Recipes of Famous Women. The Story of Beaumont would also be published that same year. This book was written from her interviews with early Beaumonters.
Two more books would follow, The White Plume, O. Henry's own short story, published in 1931, and When the Storm God Rides, published in 1936, compiled by Bessie M. Reid and retold by Florence Stratton.
Florence started her popular column called "Susie Spindletop's Weekly Letter" in 1926 in which she would write to her fictional friend Della about the happenings in and around Beaumont society.
Note #1: Just as Susie was Florence's alter ego, Della was a fictitious character representing the people of Beaumont. Susie/Florence always had a way of enticing her readers.
Note #2: After spending a rainy Saturday morning at the Tyrrell Historical Library looking through the archives at Susie/Florence's writing, I was amazed just how much you can learn about early SETX history through a gossip column.
In 1930, Florence built her home out of the bricks from the old Jefferson County Courthouse at 1929 McFaddin (located across the street from the McFaddin-Ward house). Even today, the hedges are still present just as she had them oh-so-many years ago.
Sadly, on January 28th 1938, Florence died following surgery at a New Orleans hospital. The deat certificate states the cause of death as "Arterio Sclerotic heart disease."
Florence Stratton was the first real published historian of our area. Her ceaseless energy and desire to bring the news of the day to Beaumonters was always her top priority. Through her work we can see just how life was in the early days. I'm sure Della would agree.
Note: I wish to thank the Tyrrell Historical Library and the Beaumont Enterprise for making available their wealth of information about this fine lady. I also wish to thank Ginny from the Chambers House Museum (http://www.chambershouse.org/) for introducing me to the life and times of the wonderful Florence Stratton.