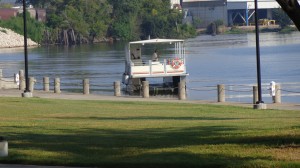 Not all history comes from a mill or is constructed with bricks and mortar. Southeast Texas is known for many things, and its wildlife, waterways, and plant life is high on the tourism list. Whether it's the hunting, fishing, birding, or camping, many are drawn to this area by its beauty and recreational perks.
One activity, which has eluded me since hearing about it in April, is the Neches River Adventure Tour, conducted by Cardinal Tours. (No fault to these fine folk. I just couldn't get away from work to take this fantastic tour until now.) The tour leaves Riverfront Park every Saturday morning at 10 (except holiday weekends), and finally this week, I was able to climb aboard.
The two-hour tour on the Neches River first takes you under the train bridge—to take a peek at the port of Beaumont—before heading up the river, under the Purple Heart Memorial Bridge, and through a bayou filled with cypress trees, wildlife, Spanish moss, jumping mullets, and the like.
 On this day, there were no alligators, but there were wasps (note the photo), jumping mullets, turtles, and an elusive heron that was determined not to have his photo taken.
When taking a tour like this, things change from day to day or week to week. It is a different adventure each time you board this vessel, but what doesn't change is the wisdom and knowledge of its crew. I cannot stress enough the value of having two guides so well-versed and knowledgeable about the river. Their passion for the preservation of this area's natural wonders shows, and I too think it must be protected.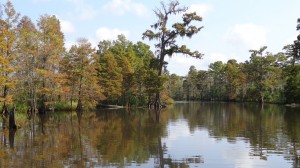 Whether you are a year old or 100, there is plenty to enjoy on this tour. The comfort factor is also a plus: you will not be sitting in the sun. The open boat is fully covered, and yes, they even have a restroom. The boat is equipped with life vests and meets all the safety requirements of the Coast Guard.
It is best to make reservations well in advance. This tour has become very popular, and the company is getting out-of-town groups as well as tourists from around the world. The cost of this tour is $15 per person, or $10 if you're a senior or a child under 12. Children aged three and under ride free.
Neches River Adventures also is available for charters, professional development workshops, and student outdoor labs. For additional information, call (409) 651-5326 or visit their website:
http://nechesriveradventures.org/