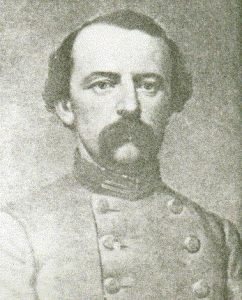 While still feeling the effects of Dick Dowling Day, I thought this week's blog post would be a no-brainer. Many locals have heard of the great battle that took place in Sabine Pass on September 8th, 1863, but few know of the man behind the legend. And even fewer still know what happened to Lt. Richard William Dowling after the war. So let us delve a bit into the life of this major player in our SETX history.
Born in 1838 near Tuam, Galway County, Ireland, Dick Dowling and his family emigrated from their homeland to New Orleans in the late 1840s when he was still a boy. After the death of his parents, he worked his way to Texas and settled in Houston. It was there that he married Elizabeth Ann Odlum and awakened his entrepreneurial spirit by opening, in October 1857, the Shades saloon—the first of what would eventually grow to be a chain of three such establishments. By 1860 he had sold the Shades and purchased the Bank of Bacchus, which was located near the Harris County Courthouse. He also owned the Hudgpeth Bathing Saloon as well as a liquor-importing firm located in Galveston.
As soon as the Civil War started to become a reality, Dowling joined the Davis Guards as a lieutenant where he participated in raids at U.S. Army outposts on the Texas-Mexico border in 1861. Then, in January of 1863, Dowling fought in the recapture of Galveston's port. Within three weeks, his company was transferred to Sabine Pass where nine months later he would achieve hero status.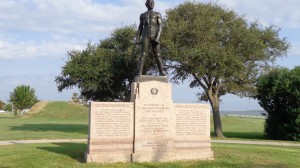 On September 8th, 1863, a Union flotilla of 5,000 (some say 6,000) men, transports, and four ships attempted to enter the Pass and the rest, as they say, is history. Note: After hearing author Edward T. Cotham Jr.'s version of what happened that fateful day, I felt he brought out more of the story than is often told (or at least than I have heard). I'm sure his book Sabine Pass: The Confederacy's Thermopylae is filled with the same passion that he displayed in researching an accurate account of what happened that day. Interestingly enough, I had purchased the book a week before Dick Dowling Day. Not knowing of this or the author's involvement in DDD, I was—and am—anxious to begin reading his book. And from talking to others at the event who had read his book (some had even read it twice), I feel even more enthused.
After the Battle of Sabine Pass, Dowling served as a recruiting officer until his discharge as a major in 1865. He returned to civilian life in Houston, managing the businesses he had left before the war. He also acquired new types of businesses: some in real estate, others in oil and gas leases. He even had an interest in a steamboat.
Richard William Dowling seemed to be on his way to a prosperous life. Given his history, along with his past military experience, he was undoubtedly a great businessman. Sadly, neither would help him in the fall of 1867 when Dowling became ill and was stricken with the Yellow Jack (yellow fever). He died on September 23rd. He left behind his wife, a daughter, and a son, and was buried in St. Vincent's Cemetery in Houston.
Given his lifespan of only 28 or 29 years (historical records are not clear on the exact year of his birth), I find it simply amazing for someone to have achieved what he did. Forget for a moment his military accomplishments. He started out as a U.S. immigrant and, through his own hard work, prospered to the extent that he had multiple successful businesses by the time he died. This is indeed a life to be celebrated. Yes, he will be remembered as Lt. Richard William Dowling, victorious commander of 40+ Irish dockhands on a hot day in September, but his life, as I have discovered, was more than a battle, and he himself was more than victorious.