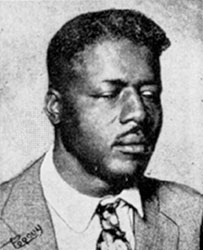 In July I went to my first Jefferson County Historical Commission meeting. Having no knowledge of what to expect, I soon became enthralled by the topics that were presented. I believe that being in the presence of people who are more knowledgeable than me can only be a positive in my quest to rediscover SETX history, and this day offered many roads on which I had not yet travelled. One such road that I was not expecting was presented to me through the mention of a blues singer/songwriter, who lived in Beaumont, named Blind Willie Johnson.
I will admit that my knowledge of music and musicians is pretty good for the most part. My first love is music, of all kinds, and when I heard the name I immediately thought "Crossroads"! Then I got to thinking that it was in fact Robert Johnson who sold his soul to the devil at the crossroads in Mississippi. So who was this Blind Willie? And how did he end up in Beaumont? With some research, I found out a lot more of his life and the music he wrote. There were no crossroads for this blind Willie, just hardships that would impact both his music and his difficult tragic life.

Willie Johnson was born on January 22, 1897 near Brenham, Texas. His mother died when he was four years old, and his father quickly remarried. At the age of five, he told his father that he wanted to be a preacher. This was to become a reality in his adult years. Willie was a self-proclaimed preacher and even had a church called the "House of Prayer," which he ran from his home.
Records are uncertain as to when he became blind, but according to an account by Angeline Johnson (Willie's second wife), when Willie was seven, his father began beating his stepmother after discovering that she was seeing another man. In the midst of the conflict, the woman picked up a handful of lye and threw it at young Willie instead of his father.
In his early years, Blind Willie preached and sang on the streets of a few Texas cities. His time for fame came in the years 1929–30 when Columbia Records recorded and released 30 of his gospel–blues mix songs. Hits such as "Trouble," "Dark Was the Night—Cold Was the Ground," "John the Revelator," and probably his biggest hit, "Nobody's Fault But Mine," which would place him as one of the major contributors to the sound of the blues. Many artists such as Tom Jones, Willie Nelson, Bob Dylan, Eric Clapton, and Led Zeppelin would later record his songs many years after his death.
Blind Willie surely had success as a writer/musician but hadn't much to show for it. He lived the life of a pauper, preaching and singing on the streets of Beaumont. It was there that he operated the House of Prayer (1440 Forrest Street).
In 1945 his home burned down, which left him with nowhere to go, so Willie continued to stay in what was left of the house. He slept on a wet bed in the elements, which contributed to him contracting malarial fever. Angeline stated in a later interview that she had tried to take him to hospital, but he was refused because he was blind. Other accounts say that the hospital denied him care because he was black. Whichever account, Blind Willie Johnson died on the 18th of September, 1945. It is determined that he is buried in Blanchette Cemetery, but the exact gravesite is unknown.
On August 20th, 1977, the space probe Voyager 2 was launched. It contained many of Earth's cultural treasures, which were to be shared openly with whom or whatever would find them in the heavens. On this celestial flight, many recordings were cataloged and packed for something else to discover. I find it fascinating that a dirt-poor self-proclaimed preacher/bluesman, who lived his later years in Beaumont, Texas, has his song cued up for the universe to hear, along with the likes of Beethoven, Bach, and Stravinsky.