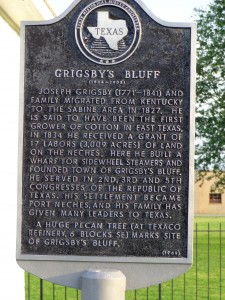 Certainly the  little town of Port Neches has seen its fair share of history: from being the habitat of two Indian tribes, to becoming the home of one of the founding pioneers in Southeast Texas history—all within a 1,500 year time span. The latter individual, Joseph Grigsby, who is the subject of this post, played a major role in the early development of Jefferson County.
Joseph was born in Loudoun County, Virginia, on September 24th, 1771, to Nathaniel and Elizabeth Grigsby. At the age of 15, his family moved onto a 1,000 acre land grant in Nelson County, Kentucky. It was there that he met Sarah (Sally) Mitchell Graham whom he married in June of 1798 in Bardstown, Kentucky. And it was in Bardstown that they started their family, which eventually included 13 children.
In 1817, the Grigsby family moved to Daviess County, Kentucky, where Joseph obtained 1,000 acres on the Green River from which he made a prosperous living growing cotton. In 1828, the family moved again. This time into the Mexican province of Texas, to Lorenzo de Zavala's colony in Jasper County.
After the Texas Revolution, which ended in April 1836, Grigsby built a large cotton plantation together with a boat landing for trade on the Neches River in Jefferson County. This became a popular trading stop for flatboats. The community, which grew from this enterprise, became known as Grigsby's Bluff (now Port Neches, Texas).
Grigsby's prosperity continued. After acquiring 10,000 acres spanning from Mesquite Point, in Sabine Pass, to where modern-day Port Neches lies, he became the wealthiest man in Jefferson County. In 1837, he and three other prominent citizens gave a total of 200 acres of land to the state of Texas, which laid out the town site for Beaumont, Texas.
Grigsby was elected Land-Office Commissioner for Jefferson County, and was a representative in the Second, Third, and Fifth congresses of the Republic of Texas. He died in September of 1841, and was buried on his plantation at Grigsby's Bluff.
Joseph Grigsby adds yet another piece to the vast puzzle of our heritage as we continue Rediscovering Southeast Texas.