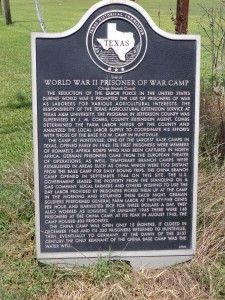 By 1943, the war and its effects had been felt by people throughout the world.  Here in Southeast Texas, our brave men and women were no exception. Without hesitation, they answered the call to duty on three levels, doing their part in both the Pacific and European theatres as well as on the manufacturing front. Sacrifice and conservation were given freely in support of the cause. Because of the need for wartime laborers, other sectors, such as the timber and agriculture industries, suffered.
At this same time, the number of  German and Italian prisoners of war was increasing, especially in North Africa.  The surrender of 150,000 prisoners from General Rommel's AfrikaKorps resulted in their shipment to the United States where they remained incarcerated until the end of the war.
The Geneva Convention of 1929 required that prisoners of war be located in a similar climate to that in which they were captured. This made Texas the ideal place for the AfrikaKorps prisoners who had been captured in North Africa. In fact at the time, Texas had twice as many POW camps than any other state. In August 1943 there were 12 main camps, but by June 1944 there were 33. The need to house, feed, and care for these POW's was massive, but Texas embraced the challenge.
In Southeast and East Texas, the arrival of (mostly German) POW's couldn't have come at a better time. Smaller camps were erected throughout the region to aid the timber and rice farmers. Three sites, the China Branch camp, the Tyrrell Park (Beaumont Camp), and in Orange County (off Womack Road) housed prisoners who worked on the rice farms under the Texas Extension Service, Texas Agriculture and Mechanical University.
Throughout the camps' existence, there were escape attempts, especially those near the Mexican border, but for the most part the prisoners lived out their incarceration without incident in Southeast Texas.

I would like to thank the Jefferson County Historical Commission for educating me of this history. I had no idea there were stalag's in Southeast Texas.
If you would like to find out more about, or become a member of the Jefferson County Historical Commission, click here:
   http://www.co.jefferson.tx.us/historical_commission/HISTCOMM.htm